I was contacted by a reader, Sheila Connelly, with a heart-breaking story about an 11-year old Samoyed named Baby. When she was picked up by the Brooklyn Animal Care & Control, she was unrecognizable as a dog, let alone a Samoyed. She was filthy, neglected and abused with huge, infected wounds. After witnessing the horrendous suffering Baby had endured at the hands of a monster...what did the facility do? They released her back to the person that abused her in the first place.
Justice for Baby is an organization that is determined to find and remove Baby from her abuser and find her a forever home to allow her to have some sort of happiness in her final years.
Please take a moment to read more about Baby and sign the petitions to assist this wonderful organization to get justice for Baby.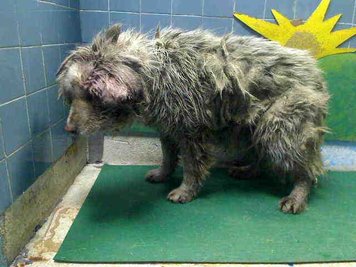 This is what Baby looked like when she was picked up by the Brooklyn Animal Care & Control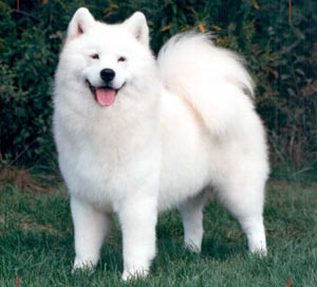 This is what a normal, healthy Samoyed looks like... THIS is how Baby should look.
The following is from the Justice for Baby website

Baby is an 11 year old Samoyed who arrived at the Brooklyn ACC (Animal Care & Control) on February 7, 2011 as a stray. Baby had previously been adopted from the ACC and her owner was identified via Baby's implanted microchip. Due to Baby's physical, medical and emotional condition the ACC contacted the ASPCA to evaluate her case for cruelty and neglect. The ASPCA allegedly did an initial investigation but declined to further pursue the case and as a result, Baby was picked up by her owner on February 15, 2011 despite the fact that 1) ACC staff believed Baby should not have been released to her owner, 2) a Samoyed rescue was willing to pull her out of the shelter through the ACC's New Hope Program, and 3) a woman who is very familiar with this breed and had been in contact with the Samoyed rescue was willing to adopt her. Baby was also guaranteed transport to the rescue and if need be, her new home.

This is an injustice.

Based on the information gathered we intend to do whatever possible to make sure Baby is removed from her current environment and offered rehabilitation with an organization or individual that is qualified to evaluate and care for Baby's specific needs. Our core Team Baby is made up of volunteers who have been deeply affected by this injustice. We are supported by a larger community that is also dedicated to getting Justice for Baby.

Simply put, we want a wrong righted. A mistake corrected. We want Baby rescued from what appears to be a life of deprivation. No dog should ever be allowed to deteriorate to this condition and then be placed back at the mercy of those who were responsible for her deterioration. Surely the long term maltreatment that Baby appears to have been subjected to violates not only the ACC's adoption agreement but also meets the standards of animal cruelty and neglect.

We are respectfully requesting of those in a position of authority that Baby either be surrendered by or seized from her current owners and allowed to retire from whatever role she has been forced to endure, which we strongly suspect is that of a shop/lot dog, so that she may live out the rest of her days as every dog should; loved, protected, and cared for.

Baby is the one who deserves a second chance, not her owners.
Veterinarian Statement
This is certainly a neglected dog regardless of breed. Since she is a Samoyed, it is worse as the coat should be white. Baby appears depressed given her posture in the picture; her head, ears and tail are down and she is not looking at the picture taker. Baby's coat is in appalling condition which can lead to dermatitis and general discomfort. The matting takes away from the insulation factor of the undercoat so she would be colder in the winter and hotter in the summer. The poor coat condition can also lead to fly larvae (maggot) infestation come warmer weather. This is often a fatal condition as it happens rapidly in older, neglected outdoor dogs. Baby also appears to have a mandibular (jaw) mass. She has a red lesion on her nose which appears to be caused by rubbing her head and nose on something. You can see white along the top of her muzzle and head. The matting and filth constitute years of neglect.
I just read the medical which adds to my take that this has been years of neglect. My entire evaluation was from the picture. Bilateral otitis, infected wounds and periodontal disease scream of long term neglect. Otitis is painful. Come summer, Baby would quickly become maggot infested with her infected wounds which were a result of the severity of matting. I don't recommend shaving a double coated breed except in extreme circumstances and I would advise shaving Baby. Glad it's been done. The undercoat in double coated breeds acts as insulation. So it keeps them warm in winter AND cool in summer. That is why I very strongly discourage shaving these dogs. Sammies also have very pink skin and if shaved, are prone to sunburn. They will also have difficulty thermoregulating (keeping body temperature normal). I've had Sammies in my life since 1988 and I have never seen a Sammie with a coat this bad.
Sometimes owners are given a second chance but Baby is 11 and if they haven't figured it out in 11 years, I don't think they will. Samoyeds are a versatile breed: they hunt, herd, pull sleds and in their native Siberia, keep their Samoyed people warm at night. They are truly indoor/outdoor dogs. But they, and ALL dogs, need companionship. No dog should be sent outdoors and ignored/neglected. In my opinion, neglect of this measure is a form of abuse in that it causes pain and discomfort to Baby.
Kathleen McManamon, DVM
Volunteer for Northern Illinois Samoyed Assistance
******************
There's much more to read at their website. Please take a moment to visit and, if you would, sign the petitions they have posted. Thank you.