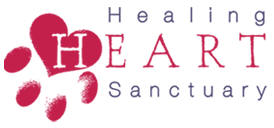 Healing Heart Sanctuary is located in beautiful Kanab, southern Utah, just 7 miles from Best Friends Animal Society. The 2.3 acre property has a residential house (for critters and humans alike), a barn, covered stalls and a cement pond (swimming pool).
It was first rumored around Kanab that this property was bought solely because it had a swimming pool and the buyer had a goat that they wanted to swim in it. Well, it was a sheep and "no" that was not the only reason the property was bought. It happened to fit perfectly with the needs of the budding Healing HEART Sanctuary. It also served as Best Friends' first water therapy pool.
Some renovations were needed and through generous donations HHS has paved the way with flagstone, put up fences (mostly to keep wildlife out), and created ramps for the carted ones.
There are still a few things that need to be done around the place so if you have a shovel, a paint brush, time, or loads of cash you have no use for, we could put you to work to work as a volunteer now. Give a holler and we'll be happy to have you come right over.
If you want to receive regular updates on the sanctuary, sign up now.
In the meantime, check out our gallery to see the evolution of the property. We think you'll be impressed.
And if you'd like to provide your financial support to help with additional improvements needed, we always appreciate the assistance.
Residents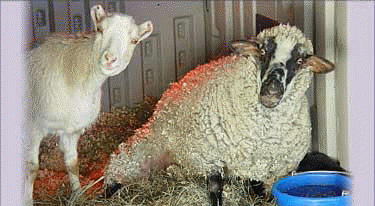 At Healing HEART Sanctuary, we've had the privilege of working with a number of animals. Some:
Some of our Happy Tails have also been part of our outreach services. Many of our residents can be sponsored or virtually adopted.

At any time on most days, you'll find some animal activity occurring. The presence of happy animals living their lives to the fullest permeates the sanctuary.
Donate
There are many ways to contribute to Healing HEART Sanctuary and all are just as valuable to our operation in helping animals and children. Without the support of generous people such as you, we couldn't be doing the work we do.
However you choose to assist, we thank you for caring so much:
Another thing you can do to help is to share this page with friends who may be interested in supporting HHS, and share with them how you feel about Healing HEART Sanctuary.
We're obviously passionate about what we do. Not only for the sake of the animals at the sanctuary but also on behalf of the literally thousands of animals we've assisted in our disaster response programs and outreach services
On that subject, we've done some research on the current economic times and wanted to share ann insightful overview with you. Specifically of note is that until once in the past 30 years has overall non-profit donations declined, even through variable economic climates. Healing HEART Sanctuary feels confident it has a solid plan for these times. And one element of that is our monthly $10/month program Cha Cha's Club which will provide ongoing stability month-to-month.
We appreciate your support. And the animals thank you.
Healing HEART Sanctuary is a non-profit 501(c)(3) corporation